Crocs Flying Shoe Store
The world's first pop-up store with drone-delivered products.
Launching a new product and refreshing the brand image
Crocs recently celebrated its 10th year in Japan, where many people consider its iconic clogs to be a wardrobe essential. In 2014-2015, we promoted the launch of the lightweight Norlin sneakers. Crocs worried its image as a basic sandal brand would prevent it from being taken seriously as a maker of fashionable sneakers. Our challenge was to update the brand image by increasing awareness of its full product lineup and refreshing the communication strategy behind its "Find Your Fun" brand message.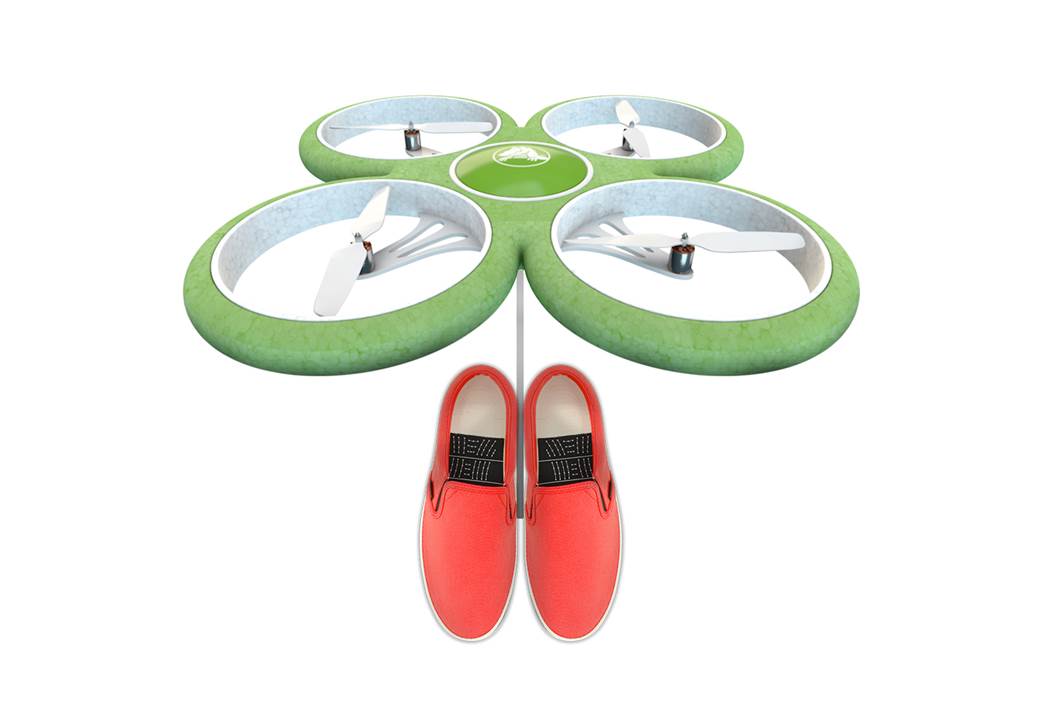 Must-see innovation to increase product visibility
We took a close look at Norlin sneakers and realized that they are far lighter than what you would imagine. This unique benefit inspired us to create the concept of "surprisingly light." The best way for people to realize this is to have them actually pick up the shoes for themselves. With Amazon recently in the headlines with their experimental drone deliveries, we thought drones would be the perfect vehicle to create buzz around the Norlin sneakers.
Our custom drones delivered the concept
We created the world's first "flying shoe store" to promote the idea of Norlin's surprising lightness. Drones would automatically pick up the shoes from a giant display stand and deliver them to the customers on request. At the time, no drones existed that could pull it off, so we developed our own custom drones that could carry the shoes. We spent a month testing and refining the drones in a warehouse to ensure safety and flawless delivery.
Detailed promotion strategy delivered the buzz far and wide
To maximize the reach of media exposure, we spent a year and a half studying how Japanese media covered drones. We found that drones started getting media coverage around October 2014. In December 2014, drones were used on a popular music program and this thrust the technology into mainstream conversation. Companies in various fields started talking publically about considering using drones and resulting legislation started to be covered on the front page of Nikkei Shimbun. We summarized these three points in a fact book we passed out at publicity events. Our 4-day "flying shoe store" pop-up took place at the popular Roppongi Midtown from March 5-8 in 2015. A location convenient for the media to gather and provide maximum coverage.
The product became a hot topic with extended media exposure
The product received long-term media exposure and became a hot topic. With our endorsement, media outlets covered our warehouse tests and drone system development process for over a month before the 4-day "flying shoes store" event, which received major coverage in Japan from Yahoo! Top News, Yomiuri Shimbun newspaper and TV programs such as Hodo Station, popular nightly news program. This coverage garnered broader interest, resulting in over 500 news reports by 45 domestic and international media companies (including Reuters and Bloomberg) and 18 TV news programs. The event was also covered by media of all genre such as The Wall Street Journal, GQ JAPAN and CNET JAPAN. Over the course of the project, an estimated Advertising Equivalency Value of 1.3 billion yen and 12.2 billion impressions were generated despite zero expenditures on advertising. All publicity was freely provided by third-party media.
AWARD