Our slogan is "Optimistic work, optimistic company".
We want to put work out that catches people off guard, stirs up debate, gets people feeling something and talking about what they experienced. When fun things are going on in culture, we are happy, and at ENJIN TOKYO, we want to contribute more fun and joy to society through our work.

As companies face more complicated problems today, they require not only traditional marketing solutions, but fresh thinking that deeply influences and affects their business while addressing social issues. How do we invent effective solutions in this complicated, ever-changing climate? We think there is a logical strategy to approach this familiar marketer's dilemma, while helping society in the process. "People think with logic but behave on impulse." Despite this simple truth, aren't traditional marketing campaigns still overly dependent on logic and light on whimsy and instinct?

When you only rely on logic, you cut off a wide range of possibilities, and default to the same stale thinking of other brands. At ENJIN TOKYO, we are all about driving our right-brain to create a solution with a one-of-a-kind idea, and one that grabs attention. It's about finding a specific drop of inspiration in a vast sea of logic and then nurturing this solution in an emotional atmosphere. In other words, we use our right brain to spark the right brains of others into action.

A brand new solution is a product of truly creative work. It does require data and analysis. But imagination and the ability to create art, to take a leap, and to build something out of nothing are even more important.

At ENJIN TOKYO, we work tirelessly to create new, artful solutions to bring prosperity to society.
Our Purpose
To help clients and society address issues and achieve results.
"Achieve results"
Meaning: Increase opportunities and success
Method: Carry out projects that achieve the goals of both the client and society.

When all stakeholders win, we also increase prosperity for society and ourselves.
SOCIETY
Our mission is to help clients and society find solutions through effective design and carefully considered communication methods that contribute to a thriving society.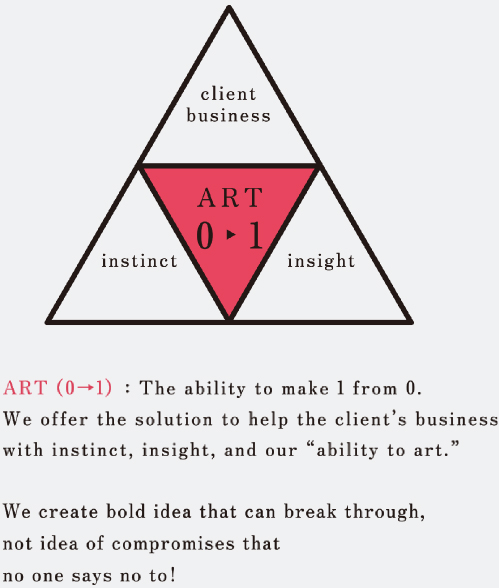 Instinct
Human behavior is driven by instinct.An obvious fact which tends to be ignored is what we prioritize. The core of our idea rings true to human instincts. An excessively data-driven approach may be correct logically but carries a risk of pushing us away from this human truth, leading to a communication program that makes no impact.
Insight
What do people really want? What are they really thinking? People don't always speak the truth. They can and will change their opinion depending on the situation.
To uncover their real desire, we look to variety of information, from the times,
the history, their upbringing, the trend, the culture, etc. The myriad of data will help to uncover the true insight as long as we know not to let the numbers take over.
Client business
We are not in the business of making advertising.
Our task and mission is to contribute to our client's business by finding a solution to their challenges through the effective designing of the optimal communication program.
Company Name

ENJIN Inc.
Established

March 21, 2012
Capital

JPY 60,700,000
Address

Carrot Tower, 4-1-1 Taishido, Setagaya-ku, Tokyo 154-0004
Board members

Directors
Representative Director, President & CEO / Junichi Nakazawa
Director COO / Seiichi Nishikawa
Outside Director / Takayuki Aomi
Outside Director / Shinichiro Nakahara

Corporate Auditor
Outside Corporate Auditor / Hiroshi Kondo

Executive Officers
Executive Officer / Isao Tomizawa
Executive Officer / Motohiro Kasahara
Executive Officer / Yoshiyuki Kawai
Executive Officer / Kazuhiro Nakaminami


Advisor
Kotaro Taketsuru
Harunobu Sasakawa
Number of employees

54(as of December 31, 2020)
Business

Communication Designing, Brand Consulting, Product Planning, Advertisement,
Events, Promotion, PR, etc.
More Details
Credo
Clients

Oriental Land Co., Ltd.

Nomura Securities Co. Ltd.

All Nippon Airways Co.,ltd.  


PIZZA HUT JAPAN LTD.  


MOS FOOD SERVICES, INC.  

Japan National Tourism Organization(JNTO).

Kirin Brewery Company, Limited.
Crocs Japan GK.
Lotte Co., Ltd.
IHG ANA Hotels Group Japan.
Nikkei Inc. 
Bank

The Bank of Yokohama, Ltd.
Mizuho Bank, Ltd. Toranomon Branch
MUFG Bank, Ltd. Toranomon Branch
Award List