"Game Chronicle" focuses on the complex world of Japanese games.
Awards
Cannes Lions

Entertainment Lion|Bronze

SPIKES ASIA

Digital Craft Division|Bronze

SPIKES ASIA

Digital - Craft UI Division|Finalist

SPIKES ASIA

Digital - Branded Games Division|Finalist

SPIKES ASIA

Design Division|Finalist

ONE SHOW

Digital Craft Division|MERIT

THE WEBBY AWARDS

Advertising, Media & PR Division|honoree

ADFEST

Direct・Interactive・Design|FINALIST

GOOD DESIGN

Good Design Award

The FWA

(2019/11/3)FWA OF THE DAY

The FWA

(2019/11/13)FWA OF THE DAY
BACKGROUND
What defies a game?
In the 1980s, many video games were created during the boom years of Nintendo Entertainment System (Family Computer in Japan). Since then, both hardware and software have continued their dramatic technological evolution. Now the game industry is still expanding and transforming as new systems emerge with online games and eSports. Until recently, however, there was little recorded game history to systematically capture 40 years of video game evolution starting in the 1980s — so this story remained a mystery. Why did games spread around the world despite language and cultural barriers? Why did such culture and content emerge from Japan? And what is the essential fun of games? Once considered child's play, video games are now becoming a global culture that attracts all generations around the world. GAME CHRONICLE seeks to explore the essence of this appeal and share the undiscovered story of game development.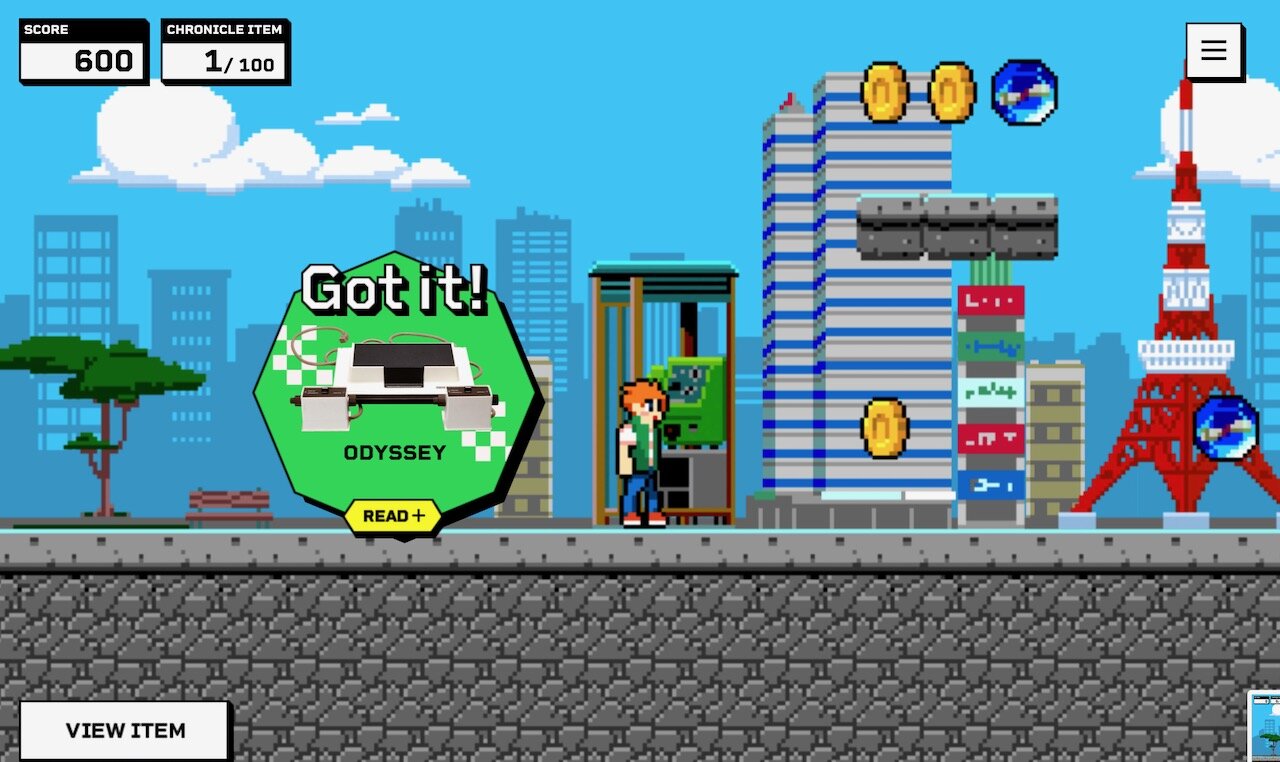 WHAT WE INVENTED
An adventure beyond time and space
GAME CHRONICLE web content introduces video game culture "born" in Japan and spread worldwide. Website design presents an action-adventure game that shows game history from the 1980s to the 2010s, covering 100 topics, and allows visitors to collect "reward items" by controlling the hero character. This online game site lets visitors learn game history through play. Game graphics for the 1980s, 1990s, 2000s, and 2010s are based on 8-bit, 16-bit, 32-bit, and full 3DCG data, respectively. Thus, site visitors can experience the technological evolution of game graphics and the progress of music development while advancing through each game era. Eleven game legends "testify" about the history of video games. These notable experts — including developers of Nintendo Entertainment System and PlayStation and creators of Space Invaders and Super Smash Bros. — appear in special movie interviews that reveal why games win fans all over the world.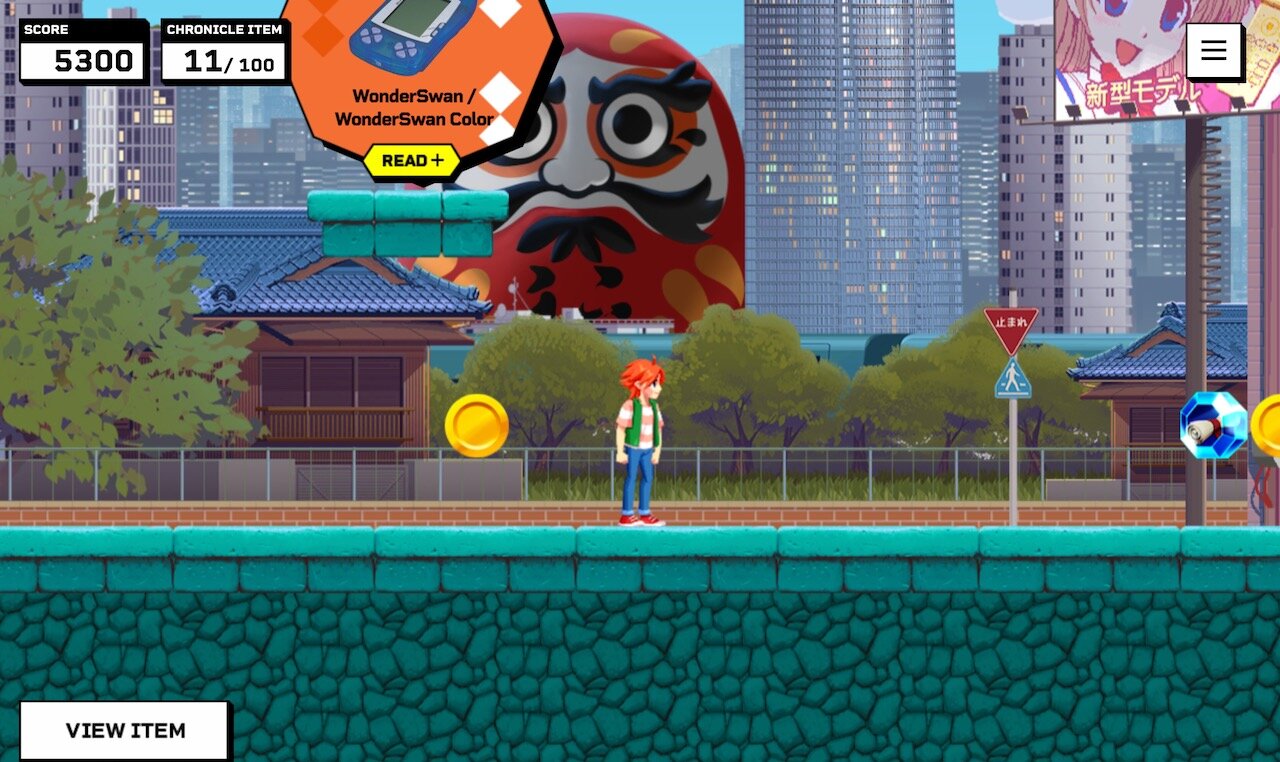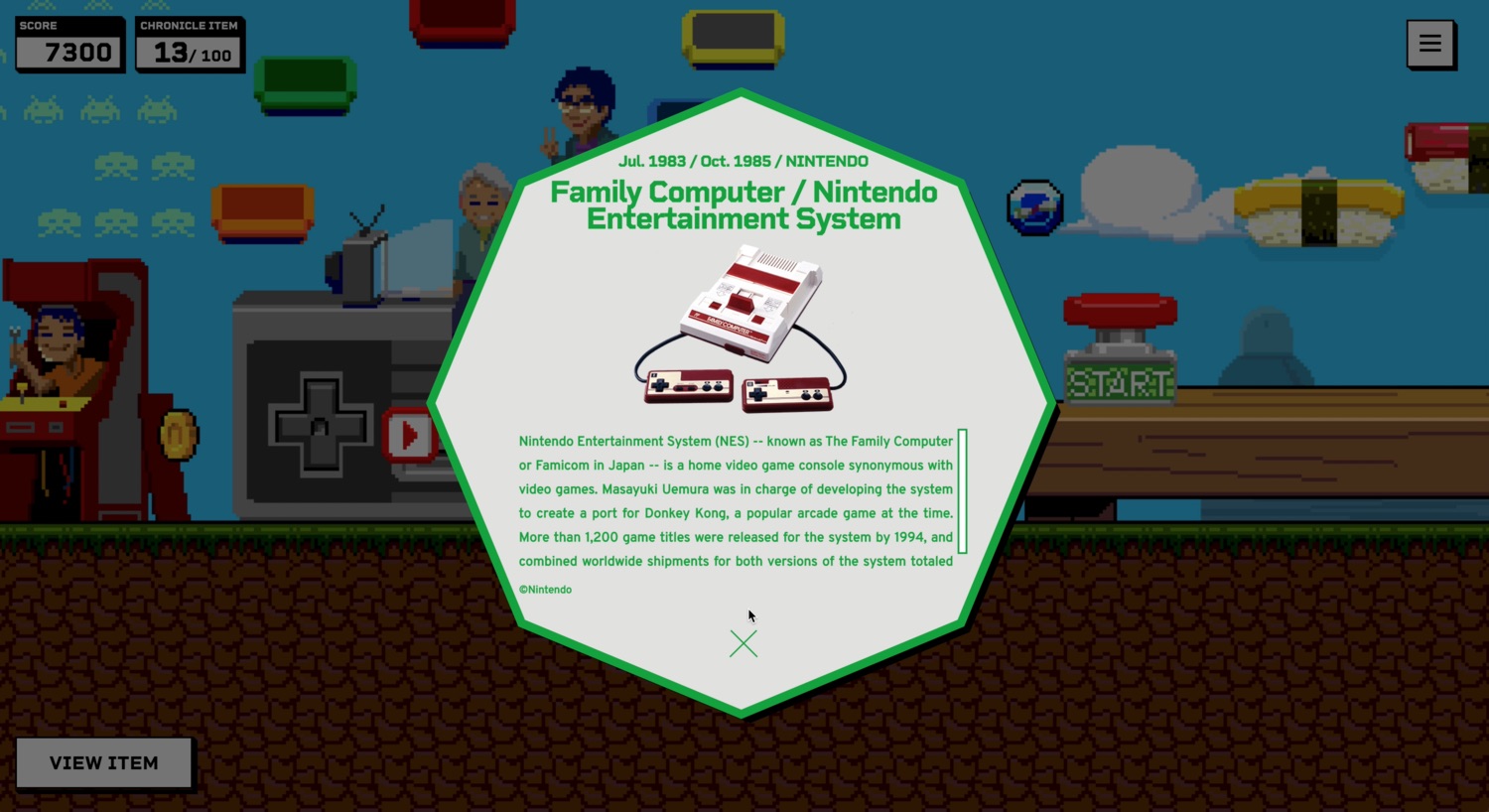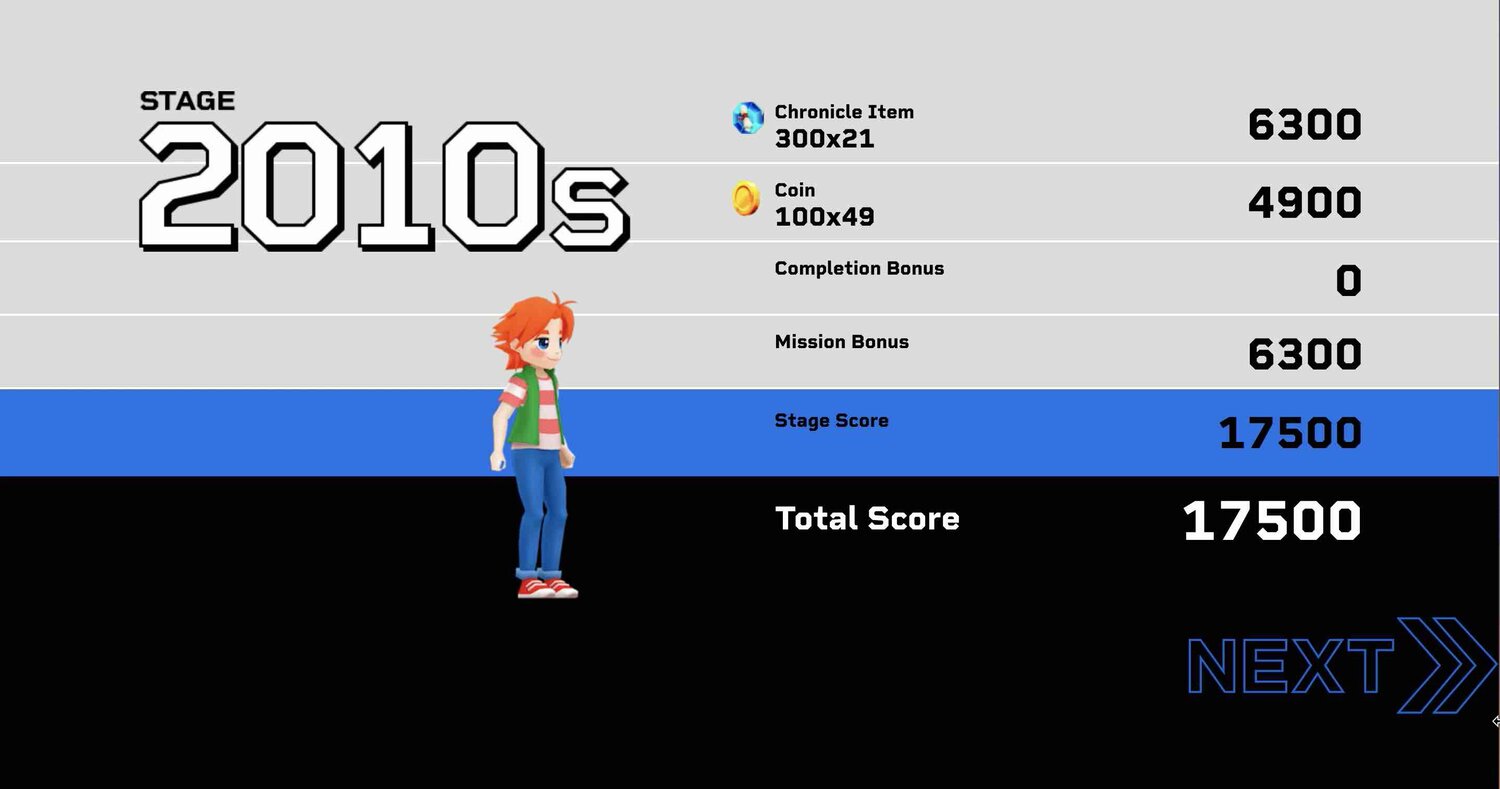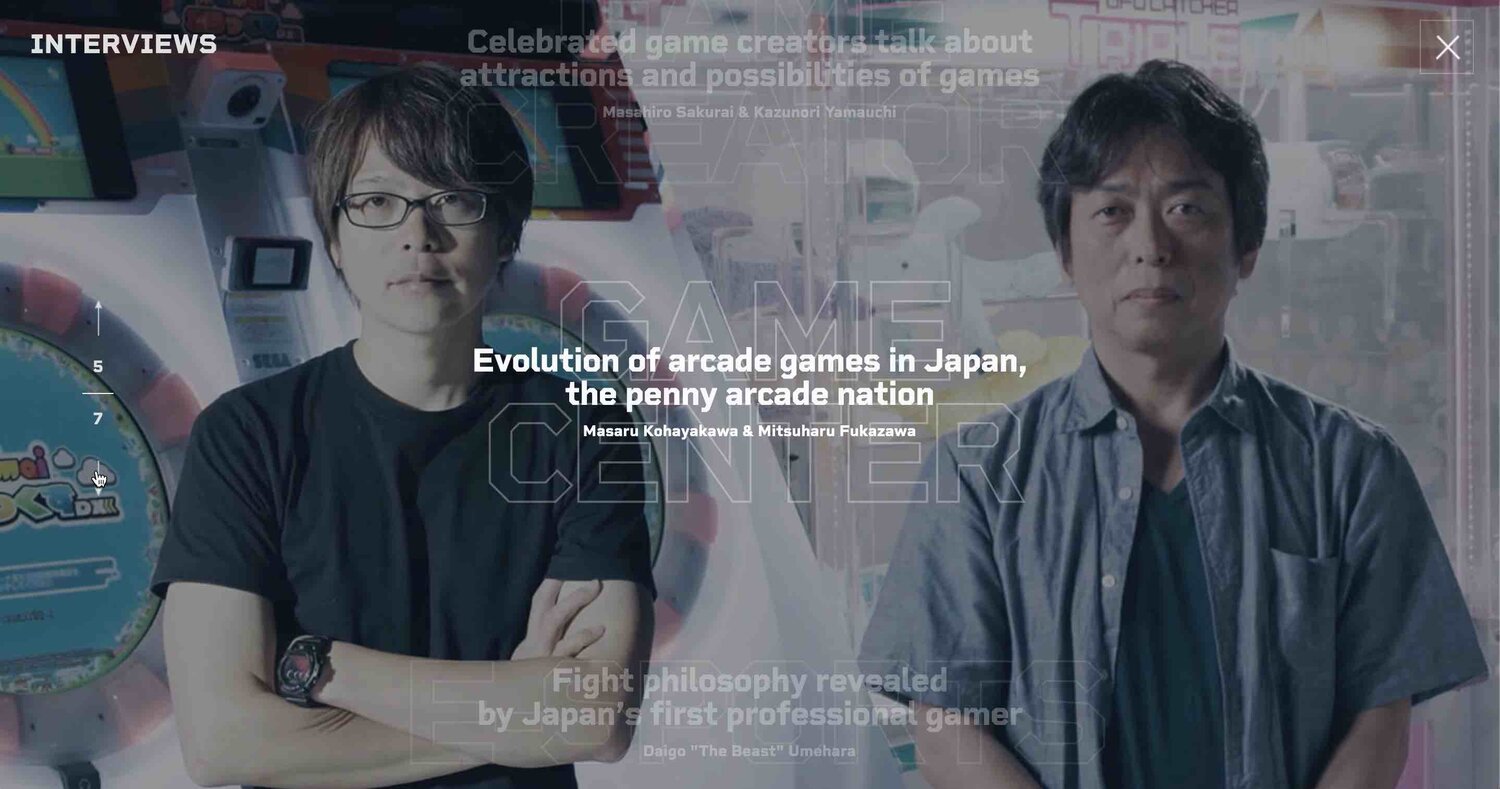 Revealing Japan's game culture and innovative history.
The website is designed as an online game on PCs and smartphones. Visitors can win the game by moving a hero character through 100 representative topics in four eras from the 1980s to the 2010s to capture "reward items" on the site. The game can be enjoyed on browser without downloading the app. Each era presents topics on game hardware and software, arcade games, and eSports, allowing visitors to learn game history. Further play provides more chances to complete game history and gain deeper understanding of Japanese game culture. If the gamer finishes in all eras, world ranking is displayed, including the number of items won. Almost all of Japan's leading game makers — including Nintendo, Sony, SEGA, Square Enix, Taito, and Bandai Namco, — transformed their competitive spirit into cooperative support for this project. They helped our team in offering characters, etc., turning this unprecedented game culture project into reality.
RESULT
Game legends in Japanese video games come together!
Immediately after site launch, more than 860 news articles were published in 60 countries around the world, with enthusiastic headlines: "Amazing costars — Nintendo's Mario and PlayStation characters!" As major game media issued feature articles and game creators and influencers shared the news, this website gained instant popularity among gamers. Within a week of launch, GAME CHRONICLE achieved 16 million impressions, primarily among social media, and more than 480,000 people from 110 countries have experienced the game (website). In addition, the game has been introduced through game-playing movies produced by YouTubers and VTubers, and these movies have led to secondary spread of GAME CHRONICLE recognition.