Notice concerning capital and business partnership with Endeavor United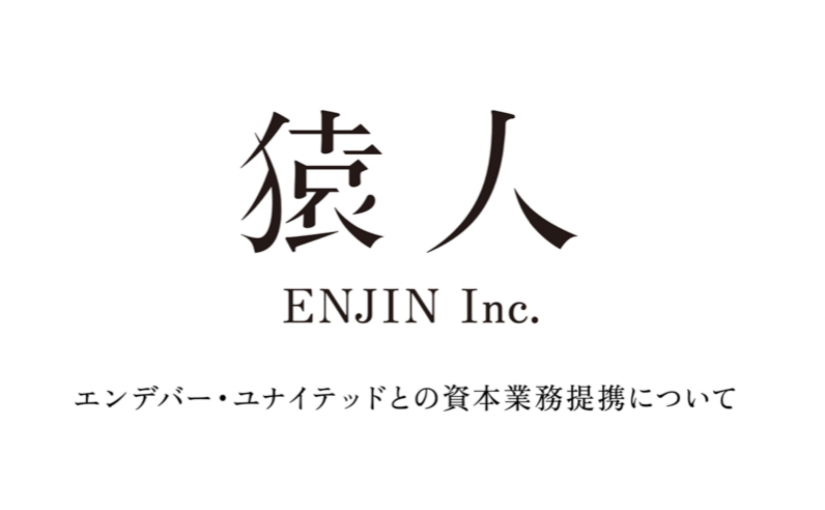 January 19, 2018
To: All
ENJIN Inc.
President & CEO Junichi Nakazawa
Notice concerning capital and business partnership with Endeavor United
 This notice is to inform that ENJIN Inc. entered into a business partnership with Endeavor United Co., Inc. on January 19, 2018. Accordingly, Endeavor United will acquire a stake in ENJIN Inc., which will then reconfigure its capital structure.
 Endeavor United is a company that took over the investment management operations of Phoenix Capital, an investment fund pioneer in Japan. The company's group has invested in and boosted the corporate value of 45 of Japan's greatest companies, among them Mitsubishi Motors, Tsumura & Co., Tokyu Construction, and Pizza Hut Japan. The company holds large amounts of capital from institutional investors such as domestic financial institutions and utilizes its investing and management support expertise to help companies with high potential to grow and develop.
 Although our business structure will not change, we will be focused on further strengthening our business foundations, formulating and executing new growth strategies, and achieving further growth in order to provide services of ever higher quality to our clients by leveraging Endeavor United's corporate resources, expertise, and network.
We hope for your continued support and guidance in the future.
<Endeavor United Co., Ltd. Profile>
Name: Endeavor United Co, Ltd.
CEO: Tomohiko Mimura
Address: 6F, Marunouchi 2-chome Building, 2-5-1 Marunouchi, Chiyoda-ku, Tokyo Japan 100-0005
URL:    http://www.endeavourunited.co.jp/index.html